Services
Delivered by professionals who have spent their careers in healthcare
We Create a Standardized
Single Source of Truth
for all Financial Operations
We standardize data from ALL your billing systems to create key performance indicators (KPI's), detailed operating statistics and patient analytics, consistent with your data governance initiatives.  Coupled with our maintenance application, you will never find yourself in a meeting arguing about the "right numbers" again.
Download our educational presentation on
How to Create a Single Source of Truth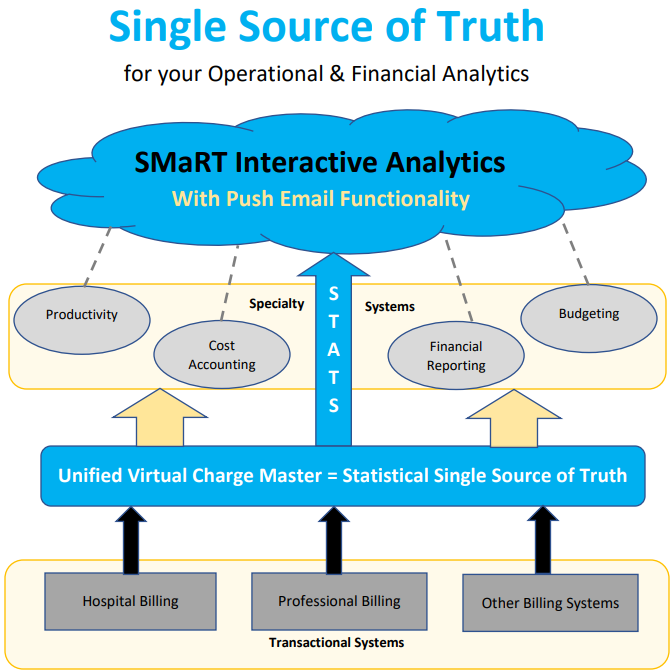 Analytics as a Service
Many organizations find their current resources fully engaged in running operations, leaving little to no time to identify operations improvement opportunities.  That's why we offer Analytics as a Service. Our experts will identify Revenue Enhancement and Expense Reduction opportunities based on your organization's performance vs. best practices and provide implementation guidance on the highest value initiatives.
Download our white paper on
The Value of Secondary Stats
Expand Beyond our Foundational Analytics with Custom Analytics
Let us build and automate time consuming, repetitive, analytical tasks such as Daily KPI reporting; A/R Account Balances; Board package production, etc. Our state-of-the-art visualization platform and experience, combined with the power of data ETL capabilities, allow us to build and deliver Custom Analytics much faster than internal resources with competing responsibilities.
Download our white paper on
How Push Analytics creates a Single Source of Truth