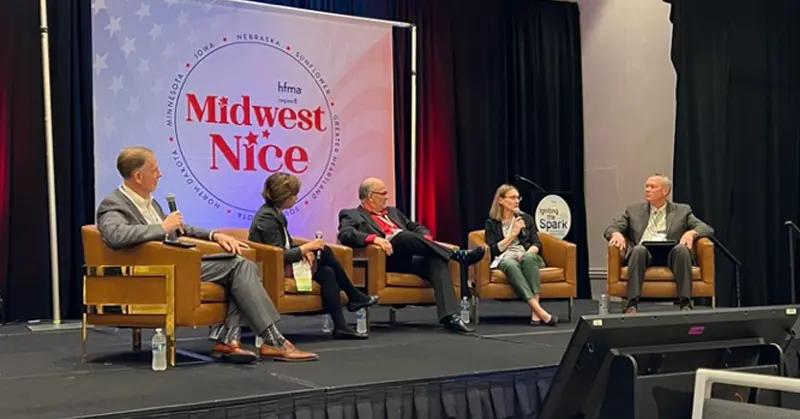 The recent HFMA Region 8 CFO panel brought together esteemed financial leaders from various healthcare organizations to discuss the pressing issues and innovative strategies within the ever-evolving landscape of healthcare finance. With representatives from hospitals, critical access facilities, and health systems, the panel offered valuable insights into workforce management, compensation, automation, price transparency, and the post-acute sector.
Fostering a Leadership Culture to Create Career Ladders
Michelle Beckner, the CFO of Hays Medical Center, shared her experiences in managing a sole community hospital and critical access facility. Workforce management was a key focus, with Beckner discussing the transition from agency staff to employed personnel and the challenges of hiring internationally. She emphasized the importance of creating career ladders and fostering a leadership culture through training initiatives. Annual market reviews and department-specific budget considerations are crucial for effective compensation management. Beckner also highlighted the value of prioritizing choices to achieve the best return on investment and explored the benefits of automation, revamping revenue cycles, patient intake processes, and utilizing back-end BOTs.
Successful Recruitment Strategies and Automation Improvements
Dave Muhs, the CFO of Henry County Health Center, shared insights into their public-private partnership and critical access operations. Muhs discussed their successful recruitment strategies, including hiring from Puerto Rico and the Philippines and investing $10 million over five years to attract talent from schools. Compensation was a focal point, with Muhs highlighting the balance between trade benefits and take-home pay. Automation efforts to improve EHR systems and financial processes, emphasize maintaining a clean chargemaster for accurate price transparency. The impact of post-acute care on reimbursement was evident, with Muhs noting the significance of aligning with vendors across multiple hospitals to maximize cost reports.
Understanding Employee Needs and Implementing Competitive Wages
Jay Ross, the CFO of CHI St. Joseph's Health, shared his insights from overseeing two critical access facilities in Minnesota. Ross emphasized the importance of workforce retention and recruitment, leveraging leadership differentiation and creative recruitment tactics, such as hosting school social events. He highlighted the value of conducting "Stay interviews" to understand employee needs and implementing competitive wages aligned with the Minneapolis market. Automation opportunities were discussed as a sector-wide priority, and Ross encouraged fellow CFOs to embrace creativity to drive innovation. Price transparency efforts were a key focus, with Ross mentioning the system-wide restructuring to reduce disparities. Additionally, he emphasized the significance of investing time in creative thinking to foster innovative solutions.
Workforce Management Strategies and Data-Driven Decision-Making
Paula Littleton, CFO of Saint Luke's Health System Critical Access Region, brought a unique perspective to the panel, focusing on critical access regions and leveraging her extensive background in reimbursement. Workforce management strategies include using exit surveys to understand employee attrition while recruiting efforts centered on showcasing the organization's culture and values. Compensation decisions are data-driven, considering both fair market rates and merit increases. Littleton highlighted the importance of margin-based compensation choices and the significance of avoiding agency staff. Automation initiatives extended to the clinical side, focusing on enhancing nursing workflows and revenue integrity through charge reconciliation and chargemaster reviews.
A Valuable Guide for Healthcare Organizations to Navigate the Workforce Landscape
The HFMA Region 8 CFO panel offered a comprehensive overview of the challenges and opportunities within the healthcare workforce. The insights that Michelle Beckner, Dave Muhs, Jay Ross, and Paula Littleton shared underscored the significance of workforce management, compensation strategies, automation, price transparency, and post-acute care in driving financial success and delivering high-quality patient care. As the healthcare industry continues to evolve, these CFOs' experiences and innovative approaches serve as a valuable guide for healthcare organizations seeking to navigate a complex landscape.
---
In this time of shrinking healthcare revenues, Sixth Sense Intelligence's mission is to help you use data to discover opportunities to reduce costs and increase revenue significantly. We are experts at helping you discover revenue leakage and optimizing charge capture.
Contact us to learn more!