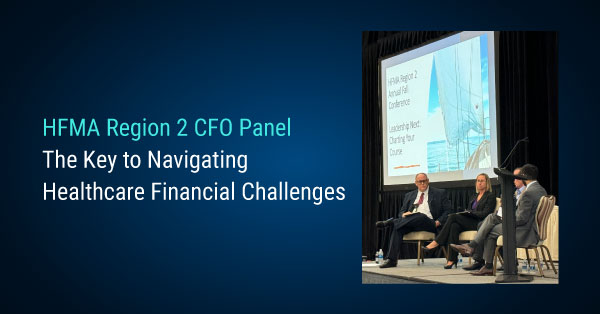 In a recent HFMA Region 2 CFO panel discussion, three distinguished CFOs shared their experiences and perspectives on the current financial challenges in healthcare. Thomas Crilly from Rochester Regional Health, Carrie Fuller Spencer from the University of Rochester/Strong Memorial, and Jeffrey Morgan from Bassett Healthcare Network provided valuable insights into their challenges and opportunities.
Adapt, Listen, and Innovate–Key Strategies for Modern Healthcare CFOs
Thomas Crilly, the CFO of Rochester Regional Health, manages a $3.3 billion health system with diverse components, such as nursing homes and behavioral health, employing over 20,000 individuals. He highlighted that modern healthcare CFOs must adapt to constant uncertainty, becoming listeners to their colleagues, physicians, and board members as they navigate financial pressures. He emphasized that traditional solutions no longer suffice, and innovation is necessary to address these challenges.
Crilly also shared common issues with other CFOs, including extended hospital stays and difficulty transitioning patients from nursing homes, leading to increased labor costs.
In 2022, they faced a $75 million deficit, but optimism prevails for 2023. Rochester Regional Health seeks collaborative solutions with vendors and advocates at both state and federal levels, particularly regarding the 340b program. Crilly is excited about the potential for massive changes in the industry, emphasizing the need for innovation and a willingness to take risks. He advised upcoming healthcare finance professionals to learn from good and bad leaders.
Strategize, Implement, and Track–Strong Memorial's Approach to Overcome Financial Challenges in Healthcare
Carrie Fuller Spencer, CFO of the University of Rochester Medical Center, Strong Memorial Hospital, and Highland Hospital, manages a $5.6 billion revenue-generating institution encompassing eight hospitals. She described her role as a complex web of interactions with various stakeholders, including clinical faculty, school faculty, and department heads. Challenges such as staffing issues and financial pressures are a concern, with a 30% nursing vacancy rate and payors failing to reimburse adequately.
Strong Memorial's approach to revitalizing finance includes a 5% expense reduction plan for each department and revenue enhancement strategies, with a strong focus on implementation and tracking. Spencer discussed innovative solutions, such as AI-driven sepsis detection and capital investments. She sees great promise in technology and AI applications, particularly in primary care settings, which can reduce labor costs. She advises healthcare finance professionals to listen, collaborate, and be less conservative.
Exploring Technology and AI Solutions to Overcome Financial Challenges in Healthcare
Jeffrey Morgan, CFO of Bassett Healthcare Network, oversees a $1 billion healthcare system serving rural central New York. He engages daily with the board and finds their insights invaluable.
The challenges faced by his network are similar to those of his peers, as they also faced a $75 million deficit in 2022. Revenue cycle management and tracking key performance indicators have helped reduce the length of stay, and they plan to apply these strategies to other departments.
Morgan emphasizes the importance of efficiency and standards in managing labor costs and actively avoids layoffs. He, too, is exploring innovative solutions involving technology and AI, with an excitement for the potential of virtual care in the healthcare sector. Morgan advises those in healthcare finance to prioritize people skills as they advance.
Opportunities for Innovation and Growth in Healthcare
In conclusion, the insights these experienced CFOs share offer a profound understanding of the world of healthcare finance. Despite the significant challenges, they underscore the industry's opportunities for innovation and growth. Key takeaways include active listening, collaboration, and taking a less conservative approach by embracing new technologies to navigate the intricate landscape of healthcare finance effectively.
---
In this time of shrinking healthcare revenues, Sixth Sense Intelligence's mission is to help you use data to discover opportunities to reduce costs and increase revenue significantly.
Contact us to learn more!