The HFMA Texas State Conference brought together healthcare professionals from various organizations to discuss the latest trends and challenges in the industry. One of the highlights was the CFO Panel—moderated by David Glazener, Vice President, Finance at CHRISTUS Health's Santa Rosa Hospital—where prominent CFOs shared their insights and experiences. This article provides an overview of the key points discussed, including topics such as talent retention, AI implementation, data-driven decision-making, service lines, and capital spending.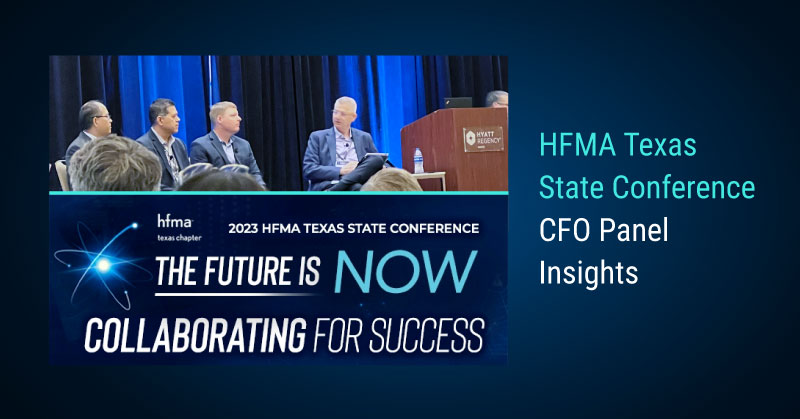 Talent Retention and Workforce Challenges
Julian Beseril, CFO of Shannon Medical Center, emphasized the importance of thinking outside the box regarding labor expenses. He highlighted the need to explore intern programs beyond traditional areas like nursing, radiology, and surgery as potential feeders for labor. Additionally, he emphasized the significance of staff engagement, utilizing social media platforms, and implementing automation to reduce reliance on manual processes. He suggested consolidating efforts across hospitals and medical groups to address the challenges associated with physician shortages and access issues while training finance professionals to work across different healthcare entities.
AI Implementation and Data-Driven Decision Making
Implementing Artificial Intelligence (AI) was discussed as a challenge and an opportunity by Julian Beseril and Steve Chen, CFO of CHRISTUS Santa Rosa. They acknowledged that while implementing AI can be difficult, it offers potential benefits for improving business operations and scheduling. Machine learning was recognized as a critical tool, although trial and error remains an essential part of the process.
The CFOs stressed the importance of accompanying data/analytics with actionable plans and forming multidisciplinary teams to analyze and make sense of the data. Consistency and collaboration within organizations were highlighted as crucial factors in maximizing the value of data analytics.
Service Lines and Financial Outcomes
Furthermore, the panelists emphasized the need to focus on high-margin service lines while also considering services that may not be profitable but are vital to serving the community. They stressed the importance of improving financial outcomes through physician partnerships and concentrating on specialized facilities. Understanding the story behind the data is critical in identifying opportunities and making informed decisions regarding service lines.
Capital Spending
Capital spending decisions were discussed in the context of ROI and balancing investing in new technology and maintaining current facilities.
Outsourcing Considerations
Another strategic consideration was outsourcing specific tasks and jobs based on needs and emergency plans. They cited examples such as laundry services, which were outsourced but later brought back in-house due to morale-related concerns. While cost was a factor in outsourcing decisions, expertise, and service quality were also important considerations. Kody Gann, CFO of Guadalupe Regional Medical Center, stressed the significance of evaluating lease-versus-buy scenarios and running comprehensive financial analyses to determine the most cost-effective options.
Conclusion: Embrace Innovative Approaches
The CFO Panel at the HFMA Texas State Conference provided valuable insights into the challenges and opportunities facing healthcare organizations. Talent retention, AI implementation, data-driven decision-making, service lines, and capital spending emerged as key focus areas for healthcare CFOs. By embracing innovative approaches, leveraging data effectively, and making strategic decisions, healthcare organizations can navigate these challenges and position themselves for success in an ever-evolving industry.
---
In this time of shrinking healthcare revenues, Sixth Sense Intelligence's mission is to help you use data to discover opportunities to reduce costs and increase revenue significantly.
Contact us to learn more!