The HFMA FL Spring Conference and Annual Meeting provided a platform for healthcare professionals and industry leaders to engage in enlightening discussions. One of the key topics of focus was post-acute care and its transformative potential. This article will delve into the key takeaways from the discussion, highlighting the insights shared by Mike Durr, Chief Financial Officer for Miami Jewish Health.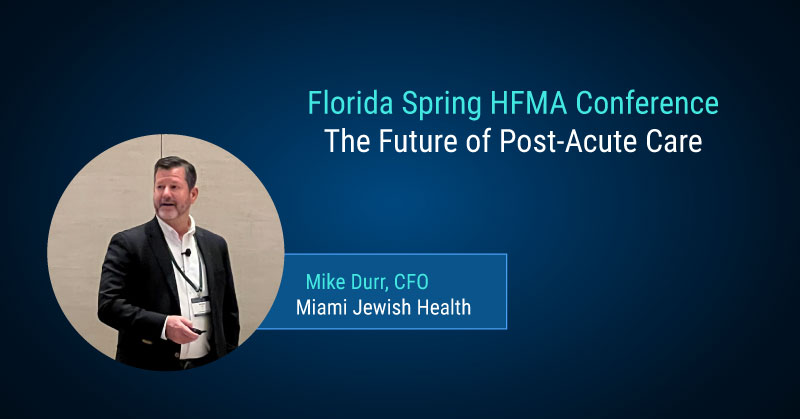 1–A Holistic Approach to Post-Acute Care
Representing Miami Jewish Health, Mike Durr shed light on their integrated post-acute care model. Miami Jewish Health offers comprehensive services, including the Program for All-Inclusive Care for the Elderly (PACE), independent living, assisted living, long-term care, and a 32-bed hospital. By providing diverse care options, they position themselves as a "Switzerland" in the industry, accepting patients from various acute care providers.
2–Balancing Operations and Real Estate
Durr emphasized the importance of a balanced approach to operations and real estate in post-acute care. While aiming to break even on operational costs, Miami Jewish Health leverages its real estate holdings to generate additional revenue. This strategic approach allows them to maintain financial stability and sustain their mission of providing high-quality care.
3–Evolving Reimbursement Models
The discussion touched upon the evolving reimbursement landscape, specifically about payment models such as the Patient-Driven Payment Model (PDPM). Miami Jewish Health acknowledged the challenges of adapting to these payment structures but wanted to collect 100% reimbursement to minimize bad debt. With a predominant reliance on Medicaid, they are also transitioning towards pay-for-quality initiatives to enhance their revenue streams.
4–PACE Program: Embracing Risk
Miami Jewish Health highlighted the PACE program, an all-inclusive care initiative for the elderly, as a critical aspect of its operations. Durr emphasized that while the program assumes some risk level, it differs from Medicare Advantage plans. By participating in PACE, Miami Jewish Health can offer comprehensive services while controlling costs and outcomes.
5–Overcoming Challenges
The discussion addressed the challenges faced by post-acute care providers. Durr highlighted the impact of the COVID-19 pandemic on occupancy rates in assisted living and independent living facilities. Additionally, stringent staffing minimums mandated by the state posed a monitoring challenge. Rising labor costs, pressures on margins, increased food costs, property insurance considerations, and the need for campus repositioning added to the complexity of managing operations effectively.
6–Preparing for the Silver Tsunami
As the baby boomer generation transitions into the Medicare population, Durr stressed the importance of preparing for the surge in demand. This demographic shift requires a cultural change, fostering respect for the aging population and ensuring the provision of high-quality care that meets the unique needs of this growing demographic.
The Evolving Landscape of Post-Acute Care
The HFMA FL Spring Conference and Annual Meeting discussion offered valuable insights into the evolving landscape of post-acute care. Mike Durr's contributions from Miami Jewish Health highlighted the importance of integrated care models, the challenges of reimbursement structures, the significance of the PACE program, and the need for proactive planning to accommodate the silver tsunami. By embracing innovation and addressing these challenges, the healthcare industry can pave the way for a brighter future in post-acute care.
---
In this time of shrinking healthcare revenues, Sixth Sense Intelligence's mission is to help you use data to discover opportunities to reduce costs and increase revenue significantly.
Contact us to learn more!