Sixth Sense Intelligence recently attended the HFMA Greater Heartland Spring Conference. Three healthcare leaders shared their organizations' recent success stories during the executive panel. They highlighted innovative strategies that have led to improved efficiency, productivity, and patient experience.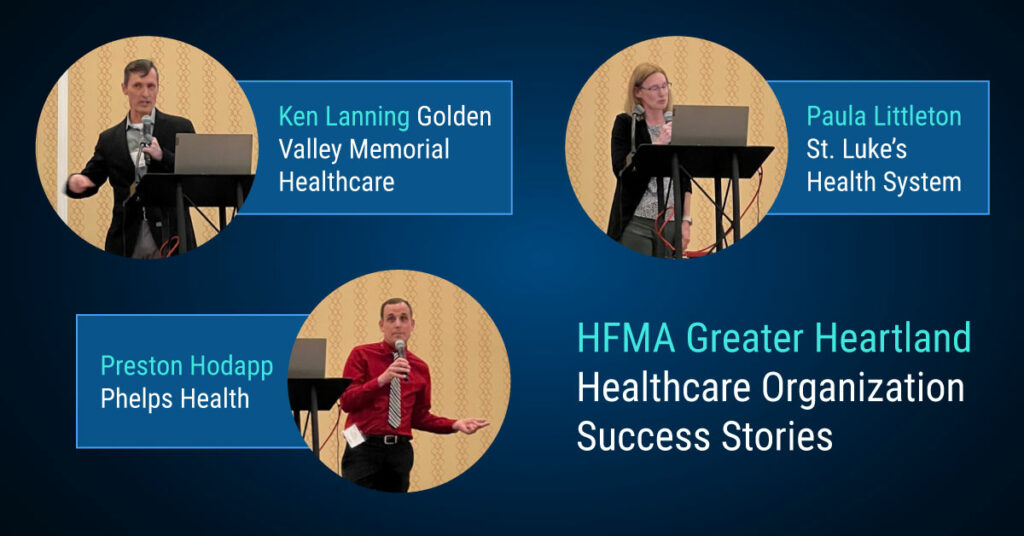 Ken Lanning, Executive Director of Golden Valley Memorial Healthcare, discussed how their adoption of robotic processes allowed them to reassign FTEs (full-time employees) to more impactful work while providing stability for the future. They have converted paper to digital processes, electronically posted HIPAA 835 transactions, maintained MSP worklists, and more. In addition, by completing its standard operating procedures, Golden Valley Memorial Healthcare has recognized important questions relating to staff retention and unexpected opportunities for organizational improvement.
Preston Hodapp, Director of Patient Access at Phelps Health, shared his organization's front-end collections improvement strategy, which has led to a significant increase in co-pay collection rates. By starting with a collection committee, training staff to inform patients about payment options, and running estimates on all scheduled patients, Phelps Health has been able to engage staff and improve patient experience scores.
Paula Littleton, CFO—Critical Access Region for Saint Luke's Health System, shared how an HIM (healthcare information management) and coding review based on turnover helped identify areas for workflow evaluation and cross-training. They built a coding review checklist focused on reviewing denial codes, the pro and facility charge process, and alignment of employed and non-employed charging. This review has enabled Saint Luke's Health System to improve provider communication and staff engagement in addition to reducing outsourcing fees without reducing staff.
These three success stories demonstrate the importance of innovative strategies and continuous improvement in the healthcare industry. By embracing change and focusing on staff engagement and patient experience, healthcare organizations can achieve greater efficiency, productivity, and financial success.
---
In this time of shrinking healthcare revenues, Sixth Sense Intelligence's mission is to help you use data to discover opportunities to reduce costs and increase revenue.
Contact us to learn more!