The executive panel at the Florida HFMA Conference shed light on the key factors driving success in value-based care (VBC) and the crucial role of physician-patient engagement in achieving positive outcomes. Moderated by John Wagner from Lucerna Health, the panel featured Juan Estrada from Sanitas USA Integrated Delivery System, David Klebonis from Palm Beach ACO, and Philmer Lewis from Next Healthcare Solutions.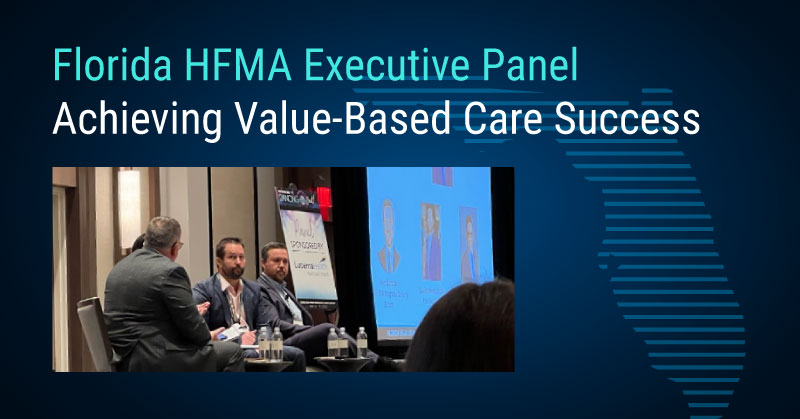 Transforming Clinician Culture and Data Integration for Value-Based Care: Insights from Sanitas Medical Center
Juan Estrada, CEO of Sanitas Medical Center, emphasized the importance of culture change for clinicians transitioning to VBC. He highlighted the need for clinicians to practice as a team and stressed that culture change must come from the top. In addition, involving community support through healthcare workers and social prescriptions was identified as a valuable approach for helping patients manage their care effectively.
Sanitas Medical Center also launched campaigns focused on wellness visits, closing care gaps, and promoting screenings, including a strong focus on behavioral health.
Patient turnover poses an ongoing challenge, requiring constant effort to attract and retain new patients. With an average patient age of 42, they invest in social media to engage and retain new patients.
Another key lesson learned is that accurate and comprehensive data sets from all stakeholders are essential. This includes data integration from health plans, claims, customer surveys, and other sources. Integrating this data, particularly for constantly-changing health plans, can be challenging. A robust data warehouse combining clinical data with claims and other relevant information is essential to ensure effective decision-making.
Finally, Estrada identified talent recruitment and training medical assistants in the current environment as another ongoing concern.
Driving Patient Engagement and Embracing Data-Driven Realities: Lessons from Palm Beach ACO
David Klebonis, COO of Palm Beach Accountable Care Organization (PBACO), shared insights based on their experience with 400 primary care physicians and 500 specialists. PBACO has already made significant progress in transitioning its patient population to VBC, intending to achieve 100% VBC for Medicare patients by 2030.
In light of the "absence of primary care" and to enhance patient engagement, Palm Beach ACO is working to improve visit frequency through better scheduling and developing a physician infrastructure for wellness visits and disease management. Call centers and technologies like Twilio, which masks phone numbers to resemble a practice's calls, were adopted to optimize patient outreach.
Klebonis also emphasized that healthcare markets now rely heavily on data and performance, reflecting a new data-driven reality.
The challenges keeping Palm Beach ACO up at night were primarily physician-driven, including space issues and labor costs. They are actively exploring new technologies to tackle these concerns.
Navigating Enhanced Risk and Patient Engagement Strategies: Insights from Next Healthcare Solutions
Philmer Lewis, Director of Operations at Next Healthcare Solutions, manages five accountable care organizations (ACO) with enhanced risk in Central Florida, covering approximately 40,000 Medicare lives. Lewis highlighted their achievement of saving The Centers for Medicare and Medicaid Services (CMS) a quarter-billion dollars in 2012, with $100 million distributed to physicians. Next Healthcare Solutions tailors risk levels to individual providers' risk tolerance, starting slow and gradually increasing as providers become more comfortable.
Connecting with patients was deemed crucial, with an 80/20 focus on care coordinators who act as an extension of providers, helping to mitigate unnecessary costs. Next Healthcare Solutions has also established relationships with ride-sharing services like Uber and Lyft to address transportation issues faced by some patients.
Lewis discussed the numerous changes in CMS/ACO regulations since 2016, leading to the 2030 CMS goals. The Innovation Center at CMS has introduced several programs, including a new model, in 2023. Reporting on quality measures emerged as a concern, with new regulations expected in 2024. Dealing with multiple electronic medical record (EMR) systems remains a significant challenge.
Key Strategies and Challenges in Aligning Value-Based Care Success: Insights from Executive Panel
Overall, the executive panel emphasized that achieving VBC success requires a shift in culture and teamwork among clinicians. Accurate and comprehensive data integration, community support, robust data warehouses, targeted campaigns, patient engagement through social media, and investment in behavioral health were recognized as critical strategies. Additionally, addressing physician-driven challenges, leveraging new technologies, and navigating changing regulations were identified as critical factors in achieving the desired outcomes on the journey toward value-based care.
---
In this time of shrinking healthcare revenues, Sixth Sense Intelligence's mission is to help you use data to discover opportunities to reduce costs and increase revenue significantly.
Contact us to learn more!