Sixth Sense Intelligence recently attended the HFMA Florida Spring Conference and Annual Meeting. Four Revenue Integrity healthcare professionals dove deep into revenue integrity and the significance of charge capture expertise. The executive panel discussion highlighted the challenges and opportunities within their given revenue integrity departments, emphasizing the importance of attention to detail, the collaboration between clinical and financial teams, and leveraging data analytics for accurate insights. This article covers the key takeaways from the panel, shedding light on strategies to optimize revenue integrity and charge capture processes.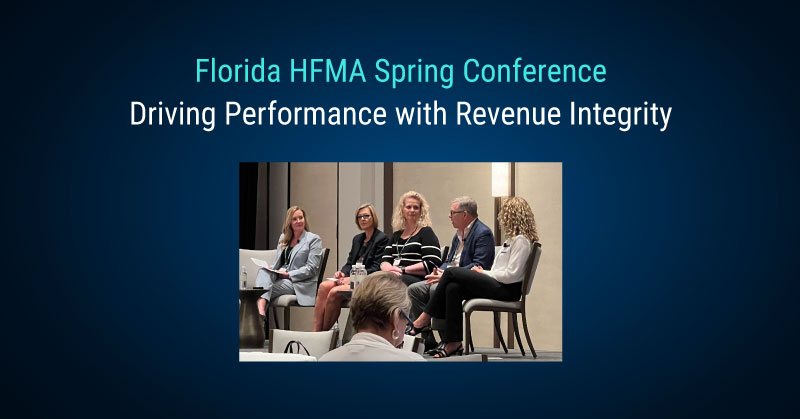 1–The Role of Revenue Integrity
The panel, moderated by Tina Hodges from RSM, emphasized that revenue integrity is a crucial conduit between clinical workflows and the revenue cycle. The revenue integrity department ensures compliance, prevents revenue leakage, and drives accurate charging practices. Hodges noted that it requires a team of subject matter experts (SMEs) from IT, finance, and certified coders to navigate the complexities of charge capture and optimize revenue.
2–The Revenue Integrity Landscape
Panelists, including Michelle Bear from Baptist Health Jacksonville, discussed the challenges and nuances of revenue integrity. The diversity of healthcare systems and the intricacies of different electronic health record (EHR) platforms, such as Epic, make revenue integrity a complex domain. The panel emphasized the need for a cultural shift to adopt EHR systems like Epic, which facilitate streamlined workflows and comprehensive revenue capture.
3–Revenue Integrity Agility
Scott Davis from Memorial Healthcare System highlighted the need for agility within revenue integrity. With ever-evolving regulations, new charge codes, and changing payer requirements, revenue integrity teams must stay informed and adaptable. They collaborate with various stakeholders, including managed care, research plans, Medicaid, and Medicare, to optimize revenue capture while ensuring compliance. Navigating complex rules and maintaining a mission-driven approach is essential for revenue integrity success.
4–Collaboration and Diversity
Panelist Karen Kennedy from Cleveland Clinic stressed the importance of diversity and collaboration within revenue integrity teams. Combining coding expertise, revenue cycle knowledge, and vendor partnerships helps identify missing charges and optimize revenue capture. In addition, practical cooperation between revenue cycle teams and nursing informatics teams enables the automation of charge capture processes, improving accuracy and efficiency.
5–Data Analytics and Charge Optimization
Jennifer Ruda from Augusta University Health highlighted the role of data analytics in revenue integrity. Coding specialists, denial experts, and IT partners are vital in leveraging data to identify root causes of denials and revenue leakage. Utilizing available tools, such as Cerner or Epic, is essential for success. A thorough pricing analysis within the chargemaster also contributes to charge optimization and revenue enhancement.
The executive panel discussion at the HFMA Florida Spring Conference and Annual Meeting shed light on the critical aspects of revenue integrity and charge capture. By prioritizing attention to detail, fostering collaboration across clinical and financial teams, embracing data analytics, and navigating the intricacies of EHR systems, healthcare organizations can optimize revenue capture while ensuring compliance. Revenue integrity departments are crucial links, driving financial performance and supporting high-quality patient care in a rapidly evolving healthcare landscape.
---
In this time of shrinking healthcare revenues, Sixth Sense Intelligence's mission is to help you use data to discover opportunities to reduce costs and increase revenue significantly.
Contact us to learn more!