The healthcare industry is constantly challenged to do more with fewer resources, and organizations feel the pressure of the current economic and political landscape. We recently attended the Colorado HFMA 2023 Spring Symposium Executive Panel, where healthcare leaders shared their insights.
During the Panel, three senior healthcare executives discussed what keeps them up at night, and how they handle constant pressure from the changing environment. In addition, they shared future innovations and plans they look forward to. Thank you to Eric Wilberg, Managing Director, Performance Improvement – Advisory Services with Nordic Global for moderating the panel.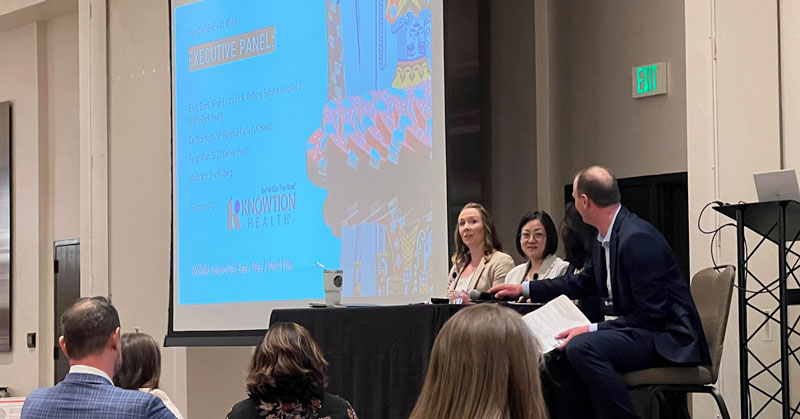 Managing Healthcare Costs and Employee Turnover
Emily Ebert, VP of Finance & CFO at St. Anthony Summit Hospital & Middle Park Health, Centura Health, discussed several topics related to costs and revenue generation. Middle Park, a managed affiliate, is building a third hospital, while St. Anthony Summit is expanding its facilities to include employee housing.
Ebert emphasized the importance of in-person interaction, as remote work can be challenging for employee engagement. Labor cost is also a challenge, especially in Summit County, which has a high cost of living. To address this, the hospital is constructing employee housing, offering rentals, and working hard to retain staff.
Challenging the status quo, Ebert looks to supply chain, monthly variance processes and equipment expenses to find more cost savings. In addition, they look for opportunities to group procedures and give credit to departments, which increases engagement and further reduces costs.
The Patient Experience
Candice Hoshi, VP of Revenue Cycle at UCHealth, discussed several topics related to the patient experience, from interpersonal to financial.
Patient experience is a priority as a strategic initiative at UCHealth, and they are investing in price transparency and sharing quality scores. Hoshi emphasized the importance of cultivating personal connections, however the move to 80% remote work has presented some challenges.
In terms of the patient financial experience, denials are a challenge. Hoshi also discussed the challenges of tele-health, which is not always reimbursed and does not work for every modality. She is concerned about payor collaboration and urges providers to align incentives and find mutual pain points. In regards to cost-cutting, Hoshi has found some success partnering with offshore back-office insurance support for revenue collection.
Community Healthcare Safety Net
Faraz Khan, CFO of Denver Health, discussed his organization's commitment to community benefit, their public health function and service as a safety net institution.
Khan indicated that remote work is a challenge for labor costs, and that their focus is on reducing costs for contract clinical labor. Supply chain is another challenge area, and Khan is looking to optimize group purchasing organization (GPO) efficiencies, contract compliance, and direct-to-manufacturer relationships.
Budgeting is another area of focus, with a zero-based approach and accountability to benchmarks. Khan also discussed tele-health and payor collaboration, which are areas of focus for Denver Health.
HB23-1215—The Colorado General Assembly
A bill introduced by the Colorado General Assembly, HB23-1215 aims to prohibit healthcare providers from charging a facility fee for outpatient tele-health and preventive healthcare services.
All three panelists are concerned about the impact of this bill on Colorado healthcare. Ebert indicated that Centura is working against the bill, while Hoshi is concerned about its impact on underserved communities. According to Khan, the bill is "not a great piece of legislation" for healthcare and indicates that it will restrict growth.
Summary Insights from the Colorado HFMA Executive Panel
Overall, the Colorado HFMA panel discussed several challenges facing healthcare executives in the current economic and political landscape. These include labor costs, supply chain, budgeting, community benefit, the HB23-1215 bill in the Colorado General Assembly, tele-health, and payor collaboration. However, they also emphasized the importance of personal connection, cultivating relationships, and finding mutual pain points to drive collaboration and innovation in the industry.
---
In this time of shrinking healthcare revenues, Sixth Sense Intelligence's mission is to help you use data to discover opportunities to reduce costs and increase revenue significantly.
Contact us to learn more!