The recent HFMA Western Symposium featured a CFO panel where industry leaders shared their insights on performance improvement strategies, challenges, and trends in healthcare finance. We've compiled six key insights from their panel discussion that serve as focus areas for other healthcare finance professionals.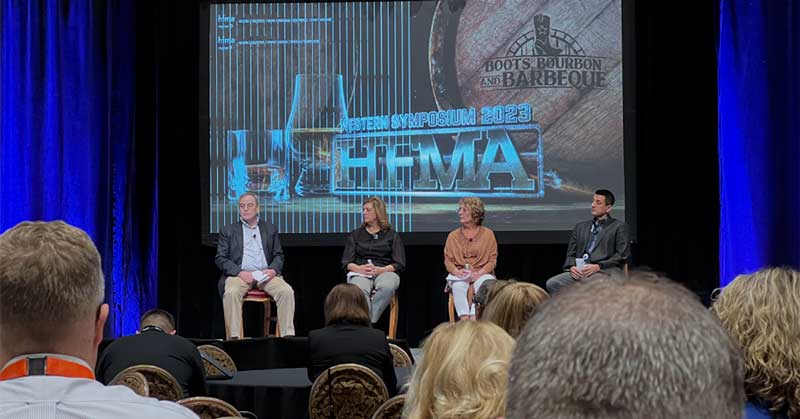 Embrace data-driven decision-making. Tom Legel, CFO of Confluence Health, emphasized the importance of being data-driven in decision-making. He shared how Confluence Health used data to present cost-effective alternatives to surgeons, which helped improve the organization's financial performance. CFOs should not be afraid to show data and have data-backed conversations with their teams and stakeholders.
Be transparent and accountable. Legel also highlighted the importance of transparency with the board and leadership team, including sharing financials without surprises. He presented concerns and areas of success, such as supply chain and revenue cycle, at various board and leadership meetings. This approach helps build trust and accountability within the organization.
Champion remote work and automation. The panelists acknowledged the shift towards remote work due to the pandemic and emphasized the need to adapt to this new management style. Money Atwal, CFO and Director of IT at Queens Health System shared how adapting to remote work and listening to staff are critical in his organization. The panelists also discussed the importance of leveraging technology, such as AI and automation, to reinvent patient care and operations in the post-pandemic era.
Focus on standardization and scalability. Kari Cornicelli, President and CEO of KSC Consulting, emphasized the need for standardization and scalability in healthcare operations. She highlighted how the shift from inpatient to outpatient care had disrupted traditional healthcare business models, and finance leaders must lead new investments to align with these changes. This includes tying cost accounting and decision support with clinical decisions and leveraging data to inform stakeholders.
Invest in workforce retention. Diana Gernhart, CFO of Banner University Medical Center, emphasized the importance of investing in the workforce and retaining core staff. She shared how Banner Health prioritizes patient access and staff retention through initiatives like competitive pay rates, flexibility for remote work, and fostering a culture of mentorship. This approach helps build a consistent and engaged workforce.
Use data to solve problems. Money Atwal highlighted the importance of data and collaboration in healthcare finance problem-solving. He shared examples of challenges faced in rural facilities and the need to plan for contingencies, such as leveraging technology for remote work. Problem-solving and collaboration are critical skills for CFOs to navigate the evolving healthcare landscape.
In conclusion, the CFO panel at the 2023 HFMA Western Symposium provided valuable insights for healthcare finance professionals. Embracing data-driven decision-making, transparency, remote work, standardization, scalability, workforce investment, and problem-solving are key strategies for CFOs to successfully navigate the current challenges and opportunities in the healthcare industry.
---
In this time of shrinking revenues, Sixth Sense Intelligence's mission is to help you use data to discover opportunities to reduce costs and increase revenue significantly.
Contact us to learn more!