The Alabama HFMA Annual Conference brought together industry experts and leaders to discuss the pressing issues and opportunities in the healthcare financial landscape. The CFO panel—moderated by Ryan Schultz, Associate Vice President, Clinical Funding and Strategic Support UAB Medicine/UAB Health System—featured esteemed executives from major healthcare systems across Alabama. In this article, we highlight the key insights shared by Joe Denton of Infirmary Health, Nina Dusang of DCH Health System, Clinton Carter of Huntsville Hospital, and Penny Westmoreland of Helen Keller & Red Bay Hospitals.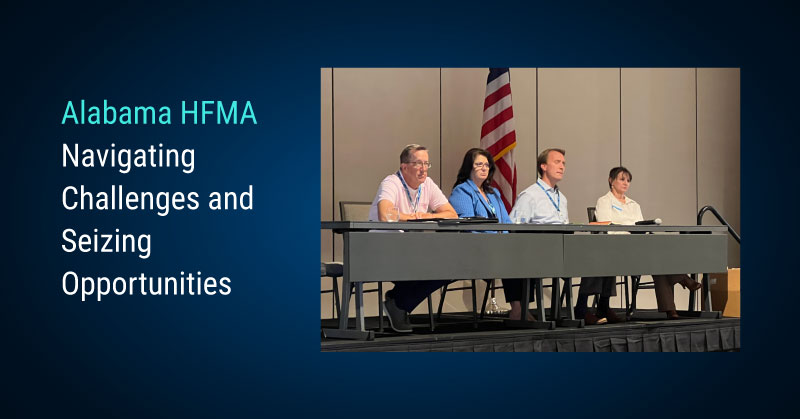 Dealing with Chaos and Disaster Plans
Joe Denton, CFO of Infirmary Health, emphasized the need for effective disaster plans and expressed concern that little has improved since the fall. Denton discussed the importance of addressing staffing rates, highlighting revenue growth as challenging. He stressed the significance of placing facilities in growth areas, expanding service lines, and leveraging physician joint ventures, ambulatory surgery centers (ASCs), and care-at-home models. Denton also mentioned the value of Clinical Integration Networks (CINs) to minimize leakage, and the potential for automation and group purchasing organization (GPO) collaboration to optimize departmental involvement and cost-cutting efforts. Denton also referenced automation and leveraging technology to reduce costs and enhance revenue.
Prioritize for the Biggest Impact
Nina Dusang, CFO of DCH Health System, emphasized the need to be both offensive and defensive depending on the situation. She discussed the impact of leadership transitions, retirements, and new board members, which prompted a thorough questioning of existing practices to adapt to the "new norm." Dusang highlighted challenges related to labor, payor denials, and rising costs. She explored the potential of robotic process automation (RPA) and artificial intelligence (AI) but cautioned about the need for tangible results and cost-effectiveness. Dusang also acknowledged the difficulty in recruiting healthcare professionals in Tuscaloosa due to regional disparities and the industry's perceived instability. Finally, Dusang indicated the need to prioritize focus for the most significant impact and to understand how to use available data.
Costs, Recruitment, and Payor Challenges
Clinton Carter, CFO of Huntsville Hospital, highlighted the headwinds healthcare organizations face, and that risk is the new norm. He discussed the difficulty in attracting labor, rising turnover rates, and the need for wage increases without corresponding productivity gains. Carter stressed the importance of reevaluating existing practices and considering outsourcing options to improve efficiency and break-even analyses. He expressed skepticism about AI applications but acknowledged the potential for specific firms to excel in this area. Carter also touched on recruitment challenges, particularly in nursing positions, and emphasized the need for collaboration with junior colleges and other industries. According to Carter, the biggest challenge—and opportunity—lies with community-based organizations (CBOs). CBOs are the new normal and the healthcare industry should look to them for opportunities to improve the front and back end.
Smaller Hospitals and Unique Challenges
Penny Westmoreland of Helen Keller & Red Bay Hospitals emphasized the crucial role of smaller community hospitals. She discussed the competition for employees and wages among hospitals in the quad cities area and the financial strain resulting from minimal new payments from payors. Westmoreland highlighted the unique challenges faced by smaller hospitals, including manual processes due to electronic medical record (EMR) systems and being hesitant to invest in RPA and AI. In addition, she identified productivity measurement for remote workers as an ongoing struggle, since it requires a trust-based approach. Westmoreland shared her hospital's initiative that exposes college graduates to various healthcare roles to raise awareness and interest in the industry.
Navigating Uncertainties While Embracing Growth Opportunities
The CFO panel at the Alabama HFMA Annual Conference provided valuable insights into the challenges and opportunities faced by healthcare organizations in the state. From dealing with chaos and disaster planning to reevaluating costs and recruitment strategies, the panelists shed light on the importance of adaptability and innovation. Payor challenges, EMR conversions, and the significance of smaller community hospitals and CBOs were also discussed. As the healthcare industry continues to evolve, these insights serve as a foundation for organizations to navigate uncertainties while embracing growth opportunities and improved financial outcomes.
---
In this time of shrinking healthcare revenues, Sixth Sense Intelligence's mission is to help you use data to discover opportunities to reduce costs and increase revenue significantly.
Contact us to learn more!