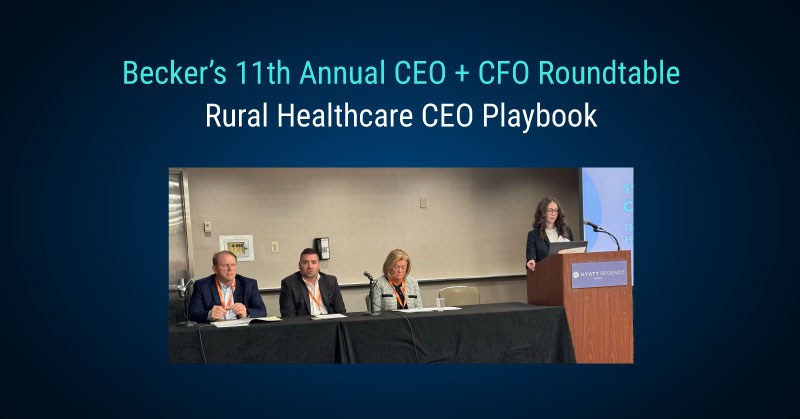 Insights from the Becker's 11th Annual CEO + CFO Roundtable shed light on essential strategies for rural healthcare CEOs navigating challenging times. The panel, featuring industry leaders Paula M. Ellis of F.W. Huston Medical Center, Michael Pizzano of Kindred Hospitals, and our newest customer, Tom Siemers of Wilbarger General Hospital, shared valuable perspectives on crucial aspects of healthcare leadership.
Retention Challenges and Financial Limitations in Rural Health Systems
In addressing the persistent challenge of talent retention, particularly in the fiercely competitive healthcare labor market, Paula M. Ellis emphasized the importance of understanding employees' needs. In rural Kansas, where budget constraints are a reality, Ellis aims to strike a balance with compensation strategies emphasizing professional development and offering enticing incentives like tuition reimbursement and nursing scholarships. Michael Pizzano, navigating the New Jersey market, stressed the value of promoting quality and fostering a familial atmosphere within smaller organizations like Kindred Hospitals. Facing financial limitations in rural Texas, Tom Siemers highlighted the significance of personal gestures, such as thank-you notes and a strong physical presence to foster a positive organizational culture.
Cost Reduction Strategies–Reducing Reliance on External Labor
Cost reduction strategies were a key focus for the CEOs. Pizzano outlined three principles – controlling labor, controlling expenses, and optimizing throughput to enhance efficiency, with a particular focus on eliminating contract labor. Siemers discussed targeted recruitment approaches, leveraging social media and job fairs, and internalizing specific tasks to reduce reliance on external labor. Ellis advocated for adherence to Group Purchasing Organization negotiated contracts and exploring alternative funding sources, such as grants for solar projects to mitigate electricity costs.
The Need for Innovation to Drive Growth
The panel explored growth strategies, with Siemers detailing how Wilbarger General Hospital revitalized services by strategically recruiting younger physicians, including specialists in surgery, podiatry, pain management and wound care. Pizzano emphasized the importance of treating multiple campuses as a cohesive unit for resource optimization and service expansion. Ellis also focused on hiring younger physicians as a proactive measure to drive growth at F.W. Huston Medical Center.
The Role of Virtual Care–Embracing Innovation
The discussion also delved into the role of virtual care. While Kindred Hospitals, represented by Pizzano, fully embraced telemedicine, Siemers noted its limited popularity in rural Texas, where patients still prefer face-to-face interactions. Ellis highlighted the successful integration of telehealth for mental health services at F.W. Huston Medical Center, despite the closure of a satellite center due to a lack of in-person visits.
Rural Healthcare CEOs' Final Thoughts
In their concluding remarks, Siemers stressed that growth is critical and shared about the implementation of four cash flow teams at Wilbarger General Hospital. Ellis emphasized the importance of work-life balance, asserting that healthcare should revolve around passion and purpose. She urged that COVID is no longer an excuse for suboptimal performance, emphasizing the privilege of working with patients at every stage of life, from their first to their last and even their worst day.
---
In this time of shrinking healthcare revenues, Sixth Sense Intelligence's mission is to help you use data to discover opportunities to reduce costs and increase revenue significantly.
Contact us to learn more!